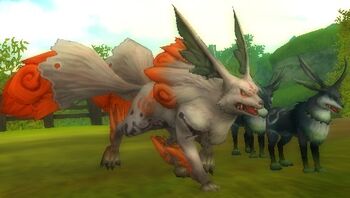 Silver Vixen is the boss of the foxes in Larksdown.
While he himself is not difficult to kill, when he is attacked many nearby enemies try to attack you, moreover, he's got a skill that knocks you backwards.
under construction

| | |
| --- | --- |
| Level: 21 | HP: 21713 |
| Location: Larksdown | Attack Type: Melee |
| | |
Silver Vixen's Ring
Silver Vixon's Sole of Foot
Small Magic Crystal
Scottish Sword
Satin Shoes
Silver Vixen's Neckalce
Silver Vixon's Meat
A Pocket Watch for Contract I
Serratus
Silver Vixon's Claw
Frost Pants
Morales
Rebellum
Oaken Musket
Combine Stone of Patience
Broken Magic Crystal
Recipe: Grade 3 Guild Stone
Tooth Dagger
Prime Pelte
Poison Fang Dagger
Rictum
Rapier Bleu
Polaris Ring
Dentis
Satin Top

Related Quests

Edit

The Head of the Fox Group (Party)
Ad blocker interference detected!
Wikia is a free-to-use site that makes money from advertising. We have a modified experience for viewers using ad blockers

Wikia is not accessible if you've made further modifications. Remove the custom ad blocker rule(s) and the page will load as expected.