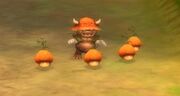 Mushroom Leader is the leader of a gang of Fungi ready to combat any players who attack him.
under construction

| | |
| --- | --- |
| Level: 5 | HP: 2553 |
| Location: Weedridge | Attack Type: Melee |
| | |
Misc.

A Pocket Watch for Contract I
Combine Stone Patience 
Combine Stone of Wisdom
Combine Stone of Courage
Copper Ore
Rough Scoch Stone

Consumables

Recipe: Mushroom Skewer
Mushrooms
Cinnamon
Minor Powder
Minor Herbs
Grade 8 Upgrade Stone

Weapons

Portuna
Porma
Billis
Birtus
Bitrul
Floret Chene
Floret Pin
Floret Noir
Steel Popgun
Prime Popgun
Training Pistol
Battle Rifle
Oaken Battle Rifle
Prime Battle Rifle
Knot-decorated Round Shield
Rare Chained Grand Training Sword
Training Sword
Strapped Grand Training Sword
Knotted Grand Training Sword
Strapped Wooden Large Sword
Meat Pick
Great Pick

Armor

Silk Shoes
Silk Shirt
Tough Leather Top
Tough Leather Boots
Tough Leather Pants and Skirt
Skin Vest

Accessories

Lux Plena Pendant
Ghost of the Sea Ring
Silver Loop Ring

Quest Drops

Edit

Related Quests

Edit

The secret of territory operating expenses (3)
Ad blocker interference detected!
Wikia is a free-to-use site that makes money from advertising. We have a modified experience for viewers using ad blockers

Wikia is not accessible if you've made further modifications. Remove the custom ad blocker rule(s) and the page will load as expected.