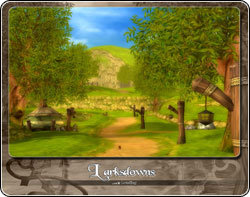 The
Larksdowns
is a hilly plain located west of Roxbury. Having practiced their skills in Weedridge, players between levels
14
and
21
are sent here next to take on slightly more challenging tasks.
Originally called "Skylarks Hill", this area once was a field where small and harmless animals until wild, savage animals unexpectedly came down from the mountainside, devastating the fields and the livestock. Creatures that had never been seen there before suddenly prowled the fields. A witness reported there were mysterious mushrooms and animals so violent that their behavior could no longer be compared to that of normal animals. The villagers believe that the monsters might come from the dangerous Fox Den in the mountain pass, however none of them has been courageous enough to confirm if their assumptions are true. The Four Associations however sense that the source of corruption that is spreading across Cardiff emanates deep from within Fox Den, and thus the player has to grow stronger and clear the way to the den first before engaging the dangers that lurk within.
Nearby Areas
Edit
Ad blocker interference detected!
Wikia is a free-to-use site that makes money from advertising. We have a modified experience for viewers using ad blockers

Wikia is not accessible if you've made further modifications. Remove the custom ad blocker rule(s) and the page will load as expected.