Castle Field is a large, open area adjacent to Castle Hall that serves as the main leveling ground for adventurers between levels 23 to 32. It used to be a massive garden belonging to Castle Hall in ancient times, but was overrun by monsters emerging from Tulach Dungeon at some point. Since then the garden has been unattended and the landscape altered by the many species who now call Castle Field their home.
Castle Field has two memory altars which can be bound and fast traveled to, as well some merchants in the south-east corner that sell supplies and offer a number of quests. There also is a small lawless area near the first altar in the middle where players can freely PvP if desired.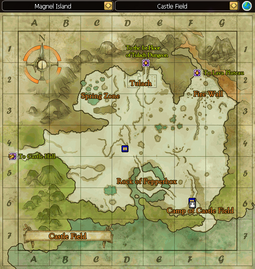 Nearby Areas
Edit
Monsters
Elite/Named Monsters
Ad blocker interference detected!
Wikia is a free-to-use site that makes money from advertising. We have a modified experience for viewers using ad blockers

Wikia is not accessible if you've made further modifications. Remove the custom ad blocker rule(s) and the page will load as expected.