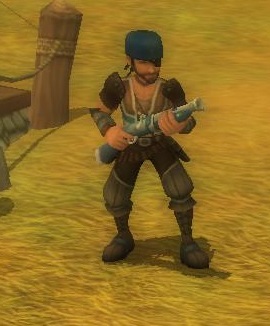 Blue Gangster Research Leader is the boss of blue gangsters in Gloshire.
He isnt a tough boss but has a skill that slows the target enemy
| | |
| --- | --- |
| Level: 49 | HP: 29032 |
| Location: Gloshire | Attack Type: Ranged |
Misc.

Combine Stone of Patience 
Combine Stone of Wisdom
Combine Stone of Courage
Combine Help Item I
Powder of Magic Power
Broken Magic Crystal
Small Magic Crystal
HP Potion I
HP Potion II
MP Potion II
MP Potion I
Recipes:

Ghoulach Steak
Werwolf Thigh Roast

Accessories

Strong Gangster Leader's Necklace
Blue Dice Earrings

Weapons

Liz de Flot
Losa de Flot 
Pixy Pistol

Armour

Rumbia Boots
Blang Boots
Emerald Shoes
Cargo Shoes
Phnomphen Gloves
Nakry Gloves
Fir Tree Jacket
Romantic Top Suit
Scirocco Jacket
Scirocco Pants and Girded Skirt
Dhole Vest

Quest Drops

Edit

Related Quests

Edit
Ad blocker interference detected!
Wikia is a free-to-use site that makes money from advertising. We have a modified experience for viewers using ad blockers

Wikia is not accessible if you've made further modifications. Remove the custom ad blocker rule(s) and the page will load as expected.